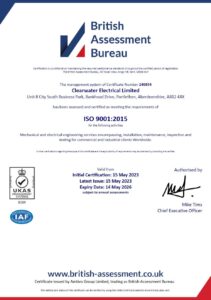 We are delighted to announce that we have recently passed our ISO 9001:2015 certification with flying colours receiving no Opportunities For Improvement (OFI's) or Non-Conformance Reports (NCRs).
This has been a major milestone for the company and allows us to demonstrate our commitment to enhancing our customer experience and improving efficiencies across the business.  Achieving certification opens up opportunities for future growth in new industries and sectors.
Huge thanks to the team for all their efforts in reaching this milestone and also to our colleagues over at Clearwater Fire Solutions for their support.
If you have any questions or need a job quoted, please get in touch – info@clearwaterelectrical.com
Liked this post? Why not share it?